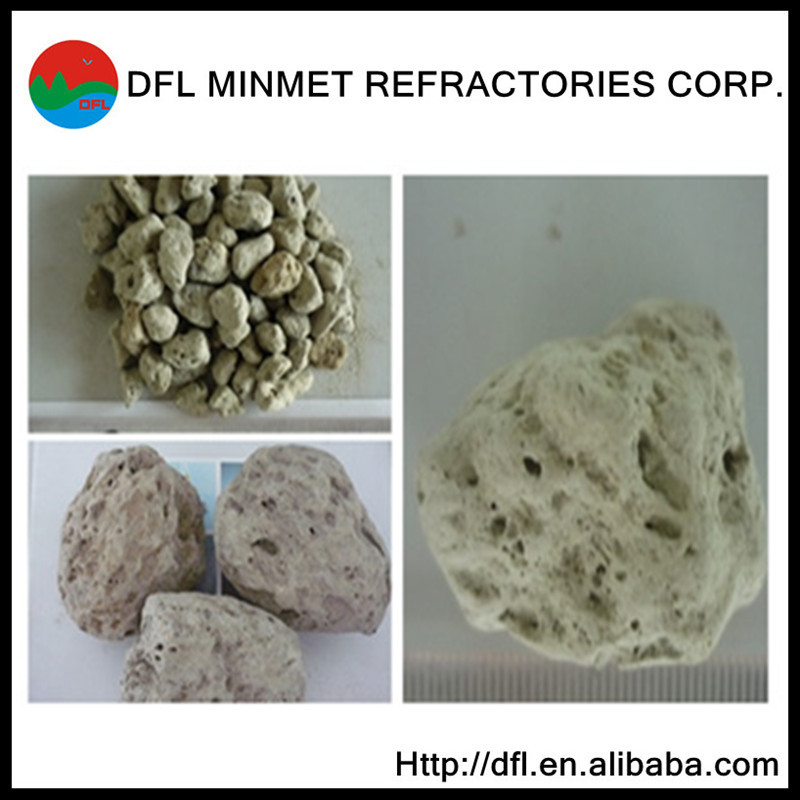 As the Only Director of TVA in Asia, we DFL Minmet Refractories Corp, have been dealing pumice stone for over 20years, both white type and bronzing type are available for us. Our pumice comes from our local mines, which can supply us 800-1200MTs per month or also as your request.
With strict quality control, we are running ISO 9001-2000 Quality Management System, based on this, we have been exporting our volcano pumice to America,Spain,Japan,Italy,Morocco,UAE,Singapore,Korea, etc,also hope to cooperate with you.
2.1---Type (I)—White/grey type,with light density of 450-550kg/m3; While Type (II)---Brown/red type, its density is around 750-850kg/m3.
2.2---Size from big rocks to fine powder: 325mesh,200mesh,100mesh,80mesh,40-60mesh,1-3mm,2-5mm,4-8mm,1-3cm,2-5cm even big block as your request
2.3---Character,
1), Light in weight, high in hardness;
2), Natural stone,non-polluting, non-radioactive;
3), Acid resistance, Corrosion resistance;
4), An ideal natural, green, environmentally friendly products.
5), Customers' design and ideas on the products are greatly welcomed.
3,Applications:
3.1---Abrasive for foot cleaning,especially in polishes, pencil erasers, cosmetic exfoliants, and the production of stone-washed jeans
3.2---Additive Polishes for decoration such as toothpastes and heavy-duty hand cleaners(Lava soap) etc.
3.3---Lightweight concrete or insulative low-density breeze blocks.
3.4---As growing substrate Growing horticultural crops
4.1---Quality is certified by ISO9001-2000 Quality System and same with confirmed samples;
4.2---Special QC department following the whole process(1,before production;2,Within production;3,Before transport;4,Before shipment).
Some test by the third party or samples is available if necessary for you.
If any requests or interests, welcome to contact us. Your favorite enquiry will be highly appreciated and replied soon.
Best regards.